The NLP wave rises and falls and, frankly, I've lost track of whether it is near a popularity peak or a sceptical slump.  Of all the ideas that managers use, this is the one that comes in and out of vogue most often – on a two or three year cycle, it seems to me.
Why does NLP peak and trough so much?
Many practitioners do NLP no great service in making some extravagant claims for what it can achieve, whilst others doggedly push away at the very real benefits of improved communication, processes and insights that an understanding of its models can offer us.  The world becomes exhausted by and cynical of the excessive zeal of some trainers, then recovers, as other trainers help build a new cohort of learners who can see real benefits.
Gillian Burn's NLP Pocketbook is a contribution to 'real benefits' end of the spectrum, and has a nice take on one of the most powerful NLP models.
Logical Levels of Change
This model has many uses, so let's pick one: let's say that you ask someone to do something.  Let's further assume that your request is reasonable, and that your relationship with them is good, so you have every reason to expect them to comply.  So it comes as a surprise when they say:
'I can't do that now.'
Handling Resistance
This sounds like resistance, so rule number one is to respect the resister and assume that their reason for resisting is a good one.  But what is it.  On the face of things, their statement gives you no clues; but if you listened very carefully, they probably told you exactly where the problem is.
Listen Carefully
What you are listening for is where they put the emphasis of their statement.  It may be very subtle, but can be remarkably obvious.  They may have said any of these statements:
'I can't do that now.'
Meaning: 'there is a problem with the time or place.'

'I can't do that now.'
Meaning: 'I have a problem with what you want me to do'

'I can't do that now.'
Meaning: 'I don't have the ability to do it'

'I can't do that now.'
Meaning: 'I don't believe I can do it'

'I can't do that now.'
Meaning: 'this is not something I can do'
Once you know where the problem lies, you can tackle it more confidently.
What else?
Could there be another reason?  What if there appears to be no emphasis.  The Logical Levels model suggests a sixth possible level, deeper than the five we have seen.  If we characterise these five as:
Environment – Action – Capability – Belief – Identity
… the sixth level is Purpose, or meaning.
People need a Purpose
We all need a meaning to our lives and a purpose for doing something.  In their mind, they are possibly asking 'why?' If you are unable to supply a good reason, then you should not be surprised to encounter resistance.  One of the powerful words we looked at in an earlier blog is 'because.'
Management Pocketbooks you might enjoy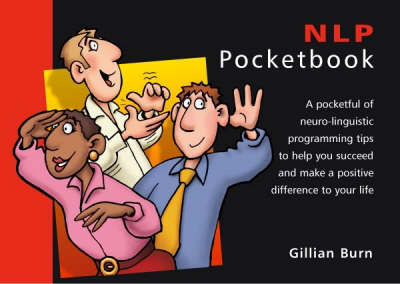 The NLP Pocketbook
is full of easy to follow descriptions and examples from the best tools that NLP has to offer.
NLP, by the way, stands for Neuro Linguistic Programming
.
There is also a chapter on the NLP model of communication in:
You might also like:
So here's the deal
Listen carefully when people resist you, act on the information you gather: not your assumptions, consider the powerful tools NLP can offer you.